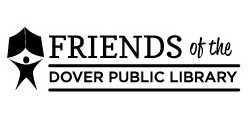 "The Mission of the Friends of the Library is to enhance the Dover Public Library so that it may fulfill its literary, educational, technological, community and cultural purposes."
Do you love your library?  Make a difference by joining the Friends!  The Friends of the Library meet the first Thursday of every month in the library's Community Room at 7:00 PM.
The Book Cellar
The Friends also staff The Book Cellar in the library's basement on Saturdays from 9 AM-12 PM.  The Book Cellar is a small bookshop stocked with new and gently used titles.  Cleaning out at home?  The Friends can use your donations of new or gently used books.  If you are interested in volunteering in the Book Cellar, contact the library at 330-343-6123 or email dplfriends44622@gmail.com.
Ready to Join the Friends? Stop by the library for a Membership Form or download the PDF version! Thank you for supporting the Friends of the Dover Public Library!
2017 Friends of the Library Officers
Gretchen VanSickle, President
Faith Bambeck, Vice-Present
Dennis Traver, Treasurer
Jan Warden, Secretary