B.Y.O.B. is different from your traditional book club
1. You pick what you read.
Unlike most book clubs where everyone reads the same thing, at B.Y.O.B. you pick the titles you want to read. Each month, we will choose a new theme (mystery, banned books, bestsellers, etc.) and then YOU choose a title to read and discuss. It may get a little chaotic, but it should be fun times, especially since…
2. It's held in local bars and wineries.
Instead of meeting at the same place every month, we will rotate through various local establishments based on the club's preferences. Which means we will be discussing a bunch of books each month over food and drink (alcoholic or non-B.Y.O.B. is all about choices!) from local places you know and love.
Check here for upcoming dates, themes, locations, and an ongoing reading list. For more information and to register, call 330-343-6123 or email Kathryn Green at kgreen@doverlibrary.org.
---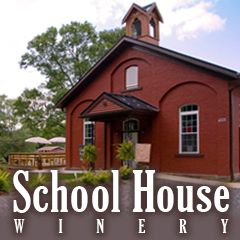 We're heading back to Schoolhouse Winery in October!
Where: Schoolhouse Winery
When: October 16 @ 7 PM
Theme: Horror
Join us at Schoolhouse Winery for a spooky discussion about horror books. As always, you choose the book: fiction, non-fiction, if it's horrific, it's fair game! Can't decide what to read? Our librarians can help you choose! Can't choose between two or more titles? Bring them all! No time? Just come and enjoy the conversation! We'll meet at 7, grab some food and drink, and then start talking about our most recent reads. Call the library at 330-343-6123 or email Kathryn at  kgreen@doverlibrary.org for more information.
---

B.Y.O.B. Fall 2014 Schedule:
| | | | |
| --- | --- | --- | --- |
| September 18, 2014 Location: Sunnyside Store Theme: Banned Books | October 15, 2014 Location: Schoolhouse Winery Theme: Horror | November 20, 2014 Location: Krockers Theme: Colonial America | December 18, 2014 Location: Gavins on the Square Theme: Romance/Erotica |
---
Reading List
A running list of titles read and discussed by members of BYOB
June 2014: Fiction


The All Girl Filling Station's Last Reunion
by
Fannie Flagg

Bird Box
by
Josh Malerman

Democracy: An American Novel
by
Henry Brooks Adams

The Storied Life of A.J. Fikry
by
Gabrielle Zevin
---
July 2014: Books that have been made into movies




Dances with Wolve
by
Michael Blake




A Game of Thrones
by
George R. R. Martin




Harry Potter and the Sorcerer's Stone
by
J. K. Rowling

Jaws
by
Peter Benchley

Labor Day
by
Joyce Maynard

To Kill a Mockingbird
by
Harper Lee

Twelve Years a Slave
by
Solomon Northup




The Wonderful Wizard of Oz
by
L. Frank Baum
---
August 2014: Books by European authors



Below Stairs
by
Margaret Powell




Chocolat
by
Joanne Harris




The Enormous Crocodile
by
Roald Dahl




Grimm's Fairy Tales
by
Jacob and Wilhelm Grimm

The Horse and His Boy
by
C.S. Lewis

Les Miserables
by
Victor Hugo

Madame Bovary
by
Gustave Flaubert




Perfume: The Story of a Murderer
by
Patrick Suskind




Siddhartha: An Indian Poem
by
Hermann Hesse
---
September 2014: Banned Books



The Canterbury Tales
by
Geoffrey Chaucer




Cujo
by
Stephen King




Flowers for Algernon
by
Daniel Keyes




The Handmaid's Tale
by
Margaret Atwood

The Lord of the Flies
by
William Golding

Of Mice and Men
by
John Steinbeck




Summer of My German Soldier
by
Bette Greene