B.Y.O.B. is different from your traditional book club
1. You pick what you read.
Unlike most book clubs where everyone reads the same thing, at B.Y.O.B. you pick the titles you want to read. Each month, we will choose a new theme (mystery, banned books, bestsellers, etc.) and then YOU choose a title to read and discuss. It may get a little chaotic, but it should be fun times, especially since…
2. It's held in local bars and wineries.
Instead of meeting at the same place every month, we will rotate through various local establishments based on the club's preferences. Which means we will be discussing a bunch of books each month over food and drink (alcoholic or non-B.Y.O.B. is all about choices!) from local places you know and love.
Check here for upcoming dates, themes, locations, and an ongoing reading list. For more information and to register, call 330-343-6123 or email Kathryn Green at kgreen@doverlibrary.org.
---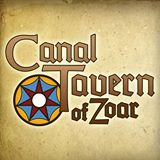 August Location and Theme Selected!
Where: Canal Tavern of Zoar
When: August 21, 2014 @ 7 PM
Theme: European authors
We hope you will think about joining us next month to discuss books by European authors over German food at the Canal Tavern of Zoar. As always, you choose the book: fiction, non-fiction, if it is by a European author, it is fair game! Can't decide what to read? Our librarians can help! Can't choose between two or more titles? Bring them all! No time? Just come and enjoy the conversation! We'll meet at 7, grab some food and drink, and then start talking about our most recent reads. We'll also decide our next few meetup locations and themes. Call the library at 330-343-6123 or email Kathryn at  kgreen@doverlibrary.org for more information.
---

B.Y.O.B. Summer 2014 Schedule:
| | | |
| --- | --- | --- |
| June 19, 2014 Location: Krockers Bar & Grill Theme: Fiction | July 17, 2014 Location: Schoolhouse Winery Theme: Books that became movies | August 21, 2014 Location: Canal Tavern of Zoar Theme: European authors |
---
Reading List
A running list of titles read and discussed by members of BYOB
June 2014: Fiction
July 2014: Books that have been made into movies