It's not often that what you dream keeps its shape when the dream takes physical form. The real world plays havoc with your visions, and what you get at the end, while it may be satisfying, usually looks quite a bit different.
I am pleased to say that our first edition of Tapestries of Tuscarawas County, a book of living memories, has taken shape and finally come to fruition. The best part? I couldn't have dreamed it any better.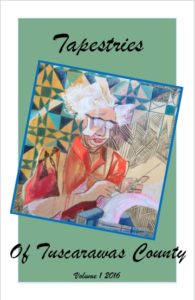 The stories in the book are from Tuscarawas County locals, sharing memories of childhood, adulthood, and old age. Those of us who live here will recognize descriptions of Tuscora Park, the county fair, and the homey, small-town feel of most of the stories. There are descriptions of growing up in town versus growing up in the country, people who made a difference in someone's life, and sometimes even crazy surprises that can shock and amaze. "Only in T County," I was tempted to say a few times.
What impresses me most about this book written by my neighbors is that so many of the stories dig down deep to the heart of what it means to me to live in Tuscarawas County, and I am a person whose love for my hometown came late. I was raised here, and as soon as I could, I fled. I lived all around Ohio, Arizona, and California, but eventually something brought me back home. And a bit of what drew me back like a magnet can be read in between the lines of this book. We all have our struggles and our bad days we long to escape, but home is something that grows up around you when you're not looking. It steadies you, calms you, and gives you courage. It can be hard to search for and hard to define, but you know it when you're there. That's what reading this book does for me. It tells me I'm home.
Look for copies to be available this fall at Dover Public Library – for only $8 you can share the experience of the place that you call home through the eyes of others who feel the same way. Join us at the book reception, Saturday November 5 at 6:00 p.m. to get your copy before they are gone!
– Claire Kandle
Local History Librarian
---