---
Art Club
Wednesdays 4:00 – 5:00 PM
September 14, October 19, November 9, and December 14
For Grades K – 5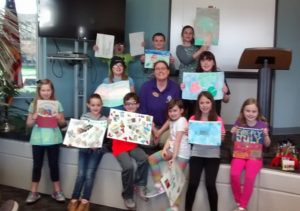 Join us each month for a fun-filled hour of creating art! Learn new art techniques like paper making, painting, and more. This fall, learn how to create a whole painting start to finish and pick up skills like using basic shapes to start your drawings and using color. Participants this fall may be required to attend all sessions in order to complete this more complicated project. A make-up day will be scheduled to help you catch up if you need it. Please only register if you think you will be able to attend at least 3 of the 4 sessions. This is a great creative club for all students, homeschooled or traditional.
Call the Library at 330-343-6123 to Register
Children's Drama Club
Rehearsals are the First and Third Mondays of Each Month from 5:30 – 7:00 PM
For ages 5 – 12
Come and share your creative side! The drama club will rehearse and perform a one of a kind show that you won't want to miss! We will work on our own costumes and scenery as well. New and experienced actors and actresses are welcome! We will be divided into two groups, one meeting 5:30 – 6:00 and one meeting 6:00 – 7:00, depending upon age and experience. The first practice will be at 5:30 on September 19 for everyone.
This Fall, the Drama Club returns with another original play entitled "Little Bit," based on the story "Thumbellina."
The 2016/2017 Production Dress Rehearsal and Performance Dates are TBD.
Contact Miss Jen at 330-343-6123 with any questions.
LEGOs and More Club
Tuesdays from 6:00 – 7:00 PM
(Unless otherwise noted)
For Grades K – 5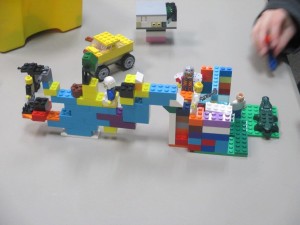 Spend an hour building with your LEGOs or ours! Build something unique and see what others build, or try something new!
September 27: Pokemon Go *5:30 – 7:30
October 11: Mario
November 15: Pokemon Cards
December 13: Lego
Call 330-343-6123 for more information or to register.
Little Tornadoes Reading Club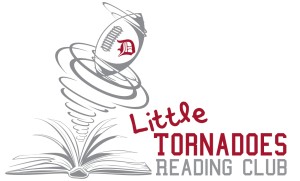 Children in grades K-5 are invited to join this popular football themed reading club. Children will be asked to complete 4 out of 7 sports themed reading activities during this 4 week program. Those children who successfully complete the program will receive free admission to the September 18 Dover Tornadoes vs Southeast game, a limited edition t-shirt, and club membership card. Children will also be permitted to be on the field with the Tornadoes before the game. This program is sponsored by the Dover Rotary, Dover Exchange Club and the Friends of the Dover Public Library.
Call the library at 330-343-6123 for More  Information