Hey kids! Keep your eyes peeled this summer at the StoryWalk® for Children's Librarians. Throughout June and July, the Children's Staff will make spontaneous trips to the StoryWalk® at Dover City Park. If we spot you there, we'll give you a raffle ticket good for a chance to win a copy of three StoryWalk® titles on display during this time!     (You may also earn tickets by participating int the Lunch with a Librarian programs).
StoryWalk®-a-thon
Saturday, July 29 from 9:00 AM – 5:00 PM. All ages welcome.
While all ages are welcome to join us for this event, the goal will be to have one child (birth – 5th grade) on the StoryWalk® at all times during the event. Children may be in strollers, wagons, on foot, or carried. Please call the library at (330)343-6123 to register for a time slot. This is a free event, but we will be collecting voluntary donations for the Beal Family throughout the day. Please show your support by walking, donating, or both!
Welcome to the Dover Public Library
StoryWalk®!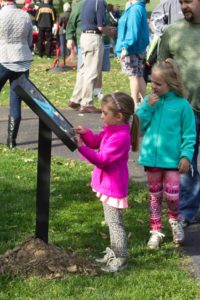 StoryWalk® is a fun and innovative way for people of all ages to exercise their bodies,
as well as their minds. As you take your walk counter-clockwise around the pond,
you will come to posts which  contain 2-page spreads of a picture book.
By the time you have come full-circle, you will have read a book in its entirety.
StoryWalk® was created by Anne Ferguson of Montpelier, VT and was developed with the help of  Rachel Senechal of the Kellogg-Hubbard Library. StoryWalks® have been installed in 50 states and 11 countries including, Germany, Canada, England, Bermuda, Russia, Malaysia and Pakistan. Thanks to the City of Dover and our post sponsors, the Dover Public Library has been able to bring StoryWalk® to the Dover, Ohio community.
Please share your Dover Public Library StoryWalk® experience with us on
social media using  
#doverlibraryoh
and  
#DPLStoryWalk
.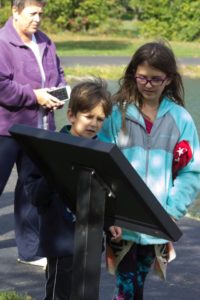 To learn more about StoryWalk® and its development in Dover, follow the links below:
Now featured at StoryWalk®:
Tea Party Rules by Ame Dyckman, illustrated by K.G.Campbell
When he follows his nose through the woods, Cub discovers a backyard tea party…with cookies!  He is just about to dig in when the hostess of the tea party shows up. And she has several strong opinions on how Tea Party must be played. Cub tries to follow her rules . . . but just how much can one bear take, even for cookies?
A laugh-out-loud funny look at the required give-and-take of playtime, Tea Party Rules is an eventual friendship story that will delight grubby cubs, fancy girls, and cookie lovers everywhere.
Want to sponsor a story?
Story sponsorship is also available for $50. If you sponsor a story, you may choose a title (pending Library approval; must be family-friendly and no more than 32 pages long). You may also make the story more personal by adding a short bio or a write-up explaining what the story means to you. Contact Dover Public Library at 330-343-6123 for more information.
Community members, businesses, or organizations wishing to make a donation towards StoryWalk® may send a check to the Dover Public Library, c/o Dani Gustavich.  Checks should be made out to "Dover Public Library."