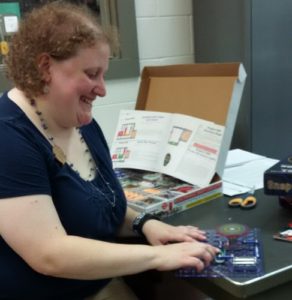 Starting in August of 2017, the Dover Public Library's Mobile STEAM Lab is a new service for area schools and groups. The traveling lab features training tools and games to exercise skills in science, technology, engineering, art, and math. The lab was funded by a 21st Century Grant with Dover High School promoting collaboration, technology, and engaging students both in and out of classrooms.
Mobile STEAM Lab participants will have the chance to learn, play, and create with the lab's resources. Highlights of the lab include: two 3D printing pens; an Ozobot robot; three Snap Circuits sets; KEVA Planks; an assortment of math games, and fuse beads.
The contents of the Mobile STEAM Lab were chosen with a large classroom setting in mind. "The aim is to set up as many activity stations as possible so that participants can take turns with the higher demand objects, like the robot and the printing pens, but have fun while waiting," explains Teen Librarian Liz Strauss.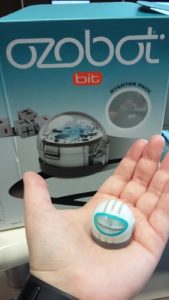 The Mobile STEAM Lab will be available for area school visits, social clubs, youth groups, and retirement facilities. Activities are best suited for ages eight and up.
"We want to share these new technologies with a wide audience," says Library Director Jim Gill. "We see this as a terrific opportunity to partner not only with schools, but also with other organizations in our community."
Groups interested in a visit from Dover Public Library's Mobile STEAM Lab are asked to contact Teen Librarian Liz Strauss at 330-343-6123 or strausel@doverlibrary.org for more information.
Mobile STEAM Lab Guidelines
Lab Inventory:
Blue Wagon
2 3D Printing Pens – Boxes, Power Cords,
3D Printing Filament – Starting with 2 boxes
3D Printing Stencil Sets – 2 blue plastic sheets, stencils, 2 scraper tools
Ozobot Markers – 8
Ozobot Robot – Box, Robot, Charger Cord (very small mini USB to USB), Robot Covers
Sumoku – Game
SET – Card Game
Farkel Party – Dice game – 6 sets of dice, 6 dice cups, score sheets, pencils
Snap Circuits – Electronics Discovery Kit
Snap Circuits – Arcade Electronics Kit
Snap Circuits – 3D Illuminations Kit
Fuse Bead Case – 3 stacking plastic storage boxes; 2 pairs of plastic tweezers, wax paper, designs
Iron
Board
KEVA Contraptions Set – 2 KEVA balls, 1 Book, and 400 Planks
Magnetic Poetry Set
Magnetic Whiteboard
Dry Erase Markers – 16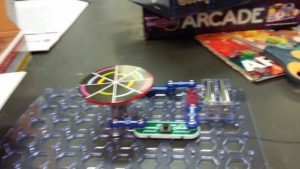 Users:
Ages 8 and Up
Length of Visit: Maximum # of Participants
1 Hour: 20
2 Hours: 30
2+ Hours: 40*
*The maximum number of individuals who can use the products in the Mobile STEAM Lab at one time.
Special Request to Group Leaders:
Group Leaders (such as Teachers and Chaperones) are asked to help the Librarian(s) ensure the safe use of all lab equipment during lab visits. This may entail:
• Disciplinary Actions such as removing individuals from activities
• Helping the Librarian(s) monitor the use of items requiring heat or electricity (especially the iron and 3D printing pens)
• Reading directions with participants to help answer questions