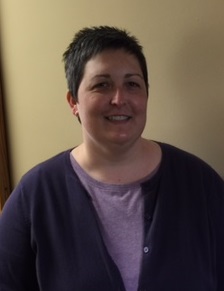 Congrats to our Volunteer of the Month for May: Aimee! Aimee helps our Outreach Librarian Linda with her Books on Wheels Program. Thanks for being such a terrific Book Buddy, Aimee!
How long have you been volunteering at the library?
Since April 2015
Why did you want to become a volunteer at the library?
Because I love to read!
My grandfather spent some time in a nursing home, and during that time, I saw how great the volunteers were for various things there, and I wanted to give back. When I heard about Books on Wheels, I knew I had to be part of it!
Who are some of your favorite authors?
Judy Blume, James Patterson, Tammy Hoag, Mary Higgins Clark, Gillian Flynn, Lois Lowry, David Baldacci…. Too many to list!
What do you enjoy most about being a volunteer?
Seeing the patrons' eyes light up when you walk in the room carrying new books
Seeing their faces smile when they realize you're there to see them. Some of these people don't have anyone visit them, and we are it.
Talking and having conversations about books!
That I get to get books to people that can't get to the library
Being able to give back
Thank you for all your hard work, Aimee! Books on Wheels wouldn't be the same without volunteers like you!
Would you like to volunteer? Contact Wendy Contini for more information on how to help your library.