Friday, July 28 and Saturday, July 29
A public symposium on Dover native William Clarke Quantrill will be held July 28-29 in Dover, Ohio. Quantrill was born and raised in Dover before moving to the western frontier of Kansas in the 1850's and joining the Confederate Army during the Civil War. On August 21, 1863, Quantrill and his band of guerilla fighters attacked and burned Lawrence, Kansas, cementing his place in the lore of the American Civil War. This program is made possible in part by Ohio Humanities, a state affiliate of the National Endowment for the Humanities. Symposium events are as follows:
An Evening with Mr. Ed Leslie, author of The Devil Knows How to Ride: The True Story of William Clarke Quantrill and His Confederate Raiders. Reeves Carriage House, Friday, July 28 at 7:00 PM.
A book signing will follow the program and attendees will have the opportunity to examine Quantrill artifacts, including his powder horn, photographs and paintings, rare books and a wax mode of Quantrill's skull as preserved by the Kent State University Anthropology Department.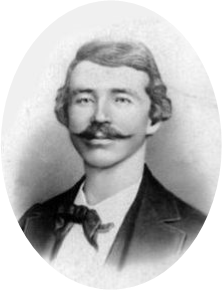 Historic Quantrill Walking Tour of Dover: Presented by Russ Volkert, Dover Public Library, Saturday, July 29 at 9:30 AM.
Participants will learn what Canal Dover was like during Quantrill's time in Dover and will visit the grave where his skull is buried and his childhood home.
Quantrill Panel Discussion, Dover Public Library, Saturday, July 29 at 1:00 PM
"Letters to Mother: A Discussion of Transcribed Letters from Quantrill to his Mother," presented by Dr. Kelly Mezurek of Walsh University.
 "Legends and Burials of William Clarke Quantrill," presented by Kim Jurkovic, curator, Tuscarawas County Historical Society.
 "The Dover Community Reponse to Quantrill, the Confederate Guerilla," presented by Jon Baker of the Tuscarawas County Genealogical Society.
 "The Rise and Fall of Quantrill the Killer: Understanding William Clarke Quantrill in the Context of Nineteenth Century Violence and Manhood," presented by Dr. Joseph Beilein of Penn State University.
"Although Quantrill is most remembered for his actions as a Confederate guerilla during the Civil War, he was born and spent his early life in Ohio, where his mother lived until her death," says Dr. Kelly Mezurek. "Quantrill's life and death provides the opportunity to explore the complexities of history, from local, state and national viewpoints. Ohio has a rich and well-recognized level of Civil War experiences and contributions, militarily, politically, economically and socially. Quantrill does not fit within this narrative, and as a result is often placed within the context of the Confederate and Southern story of the national conflict that tore apart the United States. This program aims to bring Quantrill back into Dover, Tuscarawas County, and Ohio story of the Civil War, as well as to offer a complete look at his life, instead of the more common practice of analyzing and focusing only on his deeds as the leader of Quantrill's Raiders.
For more information or to register for any Quantrill Symposium events, please contact the Reeves Victorian Home and Carriage House Museum at 330-343-7040 or the Dover Public Library at 330-343-6123. The Quantrill Symposium is sponsored by Ohio Humanities, the Dover Historical Society, the Dover Public Library, and the Tuscarawas County Historical Society.
Can't wait for the symposium? Search William Clarke Quantrill on our catalog!
This program is made possible in part by 
Ohio

 

Humanities

, a state affiliate of the National Endowment for the 

Humanities

. Any views, findings, conclusions, or recommendations expressed in the program do not necessarily reflect those of the National Endowment for the 

Humanities

.