The Friends of the Dover Public Library Mystery Dinner:
"Write to Murder"
Saturday, January 27
Doors Open at 6:30 PM
Tickets: $50 Each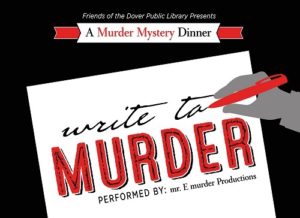 Join us for a fun, interactive, lighthearted comedy!
Novelist Susanne Collinwood earned her fortune and reputation with her very first novel, the crime story "Write to Kill." But after its publication, Susanne drifted into a wildly successful career writing Romance novels exclusively. Now, making a surprise appearance at the 2018 Mystery Writers Conference, Ms. Collinwood announces that the long awaited sequel to "Write to Kill" is ready for publication, marking her first return to the Mystery genre. Her public is excited; her ghost writers are anything but!
This special dinner is being catered by Park Street Pizza. A Cash Bar will be available.  Proceeds benefit the library's Check Out Your Future Capital Campaign.
Contact Jim, Wendy, or Paula at the Library at 330-343-6123 for more information.
mr. E productions appears courtesy of The Law Office of Dennis Traver, Dover