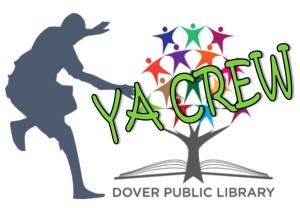 What is the YA Crew?
A teen club that meets once a month during the school year
What does the YA Crew do?
Helps the library better serve the teen population and serves the community at large by planning and implementing projects that benefit Dover
Who can join?
Anyone in grades 6-12
Why join?
Joining the YA Crew not only gives you something to decorate your college applications or resume, but also gets you some cool perks from the library, including:
An Invitation-Only Party in May for those who have completed all Requirements

Past parties: Pizza, RAC, and Skate Place
Automatic Registration for Teen Tuesday Programs

No having to worry about whether you made the cut-off date or if there are too many people signed up. As a Member of the YA Crew, you are already on the list!
First dibs on discarded YA books.
YA Crew Membership Requirements
Registration
All Teens who wish to join the YA Crew are required to fill out a Membership Registration Form, which includes Emergency Contact Information, The Crew Contract, and Parent or Guardian Consent.  Forms are available at the Circulation Desk or as a PDF download.
YA CREW MEMBERSHIP REGISTRATION FORM
Attendance
Members are required to come to ALL meetings during the year
Meetings are held on the 2nd Thursday of the Month at 3:00 PM in the Library's Community Room
If unable to attend a meeting, members are expected to inform the Teen Librarian by 2 PM on the day of the meeting
You don't need an excuse to miss a meeting; you just have to let the Teen Librarian know
By Special Request, Meetings WILL be held in the Summer of 2016. Meeting Dates are as follows: June 9 and July 14 at 2:00 PM
During these special meetings, we will be working on crafts for our Humane Society Fundraiser in July. Missing Summer meetings will not count against full membership.
Behavior
You are expected to be Respectful and Productive at all meetings
No talking while someone else is talking
Be positive
Comments like "That's dumb!" and "Noooo-ooo!" should not be made at meetings
Absolutely no name-calling or bullying
Treat others the way you would want to be treated
Take the meetings seriously
Anyone disrupting the meeting will be asked to leave. If a teen is asked to leave twice in one school year, he or she will not be allowed to return to the YA Crew meetings for 6 months.
Volunteering
Members are expected to complete at least 3 hours of community service or volunteer work
A few stipulations:
At least 1 hour needs to be completed at the library
Any Library event where you help set up, clean up, or help run the event will count (example: the Haunted Library)
Meetings do NOT count
Sharing Ideas
The library strives to provide teens with a variety of teen programs, and the YA Crew is expected to help with that.
Submit 1 Program Suggestion Form a Year
It doesn't necessarily have to be approved, but it should be well thought out.
Form is available as a PDF
YA CREW PROGRAM SUGGESTION FORM
Guests
Guests are allowed to come to meetings but are expected to:
Be in Grades 6-12
Be Respectful and Productive at the Meeting (see Behavior)
Questions? Concerns?
Liz Strauss – Teen Librarian
330-343-6123
Page Updated 8/27/2015