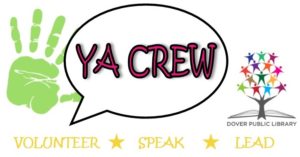 What is the YA Crew?
A teen club with no formal meetings and lots of volunteering opportunities to accommodate teens with busy schedules and the drive to help their community
What does the YA Crew do?
Lends time, ideas, and talents to the Dover Public Library to help us provide better service and programming to teens as well as to the community as a whole
Who can join?
Anyone in grades 6-12
Why join?
Volunteering with the YA Crew not only gives you something to decorate your college or job applications and resumes, but also gets you some cool perks from the library, including:
An Invitation-Only Party in May for those who have participated throughout the year
First dibs on discarded YA books
The chance to lead your own program or come up with your own display for the Teen Zone
YA Crew Participant Expectations
Membership Requirements:
Any teen who completes the following requirements is considered a YA Crew Member for the School Year:
1) At least 2 hours of logged volunteer time at the library
2) At least 1 Program Suggestion Form, to be turned in by April 15.
Note: The Program Suggestion doesn't have to be approved, but it should be well thought out.
Behavior
Teens in the YA Crew are expected to hold themselves to a high standard of behavior and serve as good role models in the library and the community.
In other words…
1) Be Inclusive: Invite other teens to join in activities
2) Be Respectful of Others:
Keep your voice low in quiet areas
Listen to all Library Staff
Do not yell
Do not argue
Absolutely no name-calling or bullying
Help make the Library a Safe Place, a place where you can be you, I can be me, they can be them, and everyone can have a good time.
 Meetings
As of Fall 2017, we no longer have formal meetings. Occasionally, there will be informal discussions at the beginning or end of a regular Teen Tuesday event. Participation in these discussions is not a requirement for membership in the YA Crew.

Volunteering
Before they start volunteering at the Dover Public Library, teens are required to meet with Teen Librarian Liz Strauss for orientation. At this time, teens will be trained on volunteer tasks, learn how to log their volunteer time, and turn in their volunteer release form, which requires a parent's or guardian's signature.
Questions? Concerns?
Liz Strauss – Teen Librarian
330-343-6123
Page Updated 7/22/2017