It's February, the so-called shortest month of the year. But ask anyone from Ohio and they will tell you it often feels like the longest. Why? The weather. By this point I've complained about it so much I'm tired of my own griping. It's cold. So cold. And the snow. Can't it just melt already? Margaret Atwood calls February "month of despair with a skewered heart in the centre." With spring a mere 3 weeks away, I am positively aching for warmth and the sight of tiny crocus buds poking their eager green tongues out to taste the air. Alas, we have a bit more weather to weather. To make myself feel better I thought I would research a winter before my time (okay, just barely before my time) that was much much worse:

Make mention of this to Midwestern folks who lived through it and you are sure to hear a hair-raising tale or two. My mother, a teacher, remembers waking up to the radio on the morning of January 26: "If you are within the sound of my voice there is no school today." She peeked out the window, saw the stop sign at the end of our street flapping violently back and forth in the wind, then hopped back into bed (I was still incubating at the time, not due for another six weeks, so I was blissfully unaware of the weather conditions). She was lucky to avoid the worst of it.
Wind gusts in excess of 65 mph caused scattered power and phone outages. Visibility on I-77 was down to zero, county roads were drifted in. No mail, no buses, no deliveries. Nothing could be done about snow removal until the wind died down, and a shortage of salt compounded the problem. Schools, state offices and airports closed. Trees fell. Windows shattered. Trailers turned over and roofs collapsed or were blown off. A barn toppled in the wind, killing the livestock huddled inside. The "killer blizzard" also took 90 human lives, including a young couple who decided to wait out the storm in their car, refusing rescue. They were found dead the next day.
But thankfully all storms pass, the damage is tallied, and then the cleanup begins. This blizzard was particularly costly to Ohio farms, causing an estimated $48.2 million in damage. Clearing the roads was an exhausting and often thankless chore; I read an article of one county worker who plowed roads in a '73 Ford for 15 straight hours (in drifts four feet high and 30 feet long), getting approximately 1.5 miles to the gallon, only to be stopped by a citizen "screaming invectives" about plowing in his driveway.
While this winter has had its share of inconveniences (at times my heater sounds like a volcano about to erupt), I am grateful that this year hasn't seen a "state of emergency" blizzard with hurricane winds (knock on wood – it ain't over yet), and that I have a warm roof over my head and a loving family with whom I can cuddle and share hot chocolate. And I hope that we will soon see a headline like this one that appeared over 100 years ago: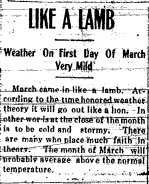 Until then, I'm with Ms. Atwood: Make it be spring!
"February" by Margaret Atwood, from Morning in the Burned House. Houghton Mifflin, 1996.
Looking for a way to pass the remaining cold days? Come to Dover Public Library, cozy up to our microfilm machine, and read about winters far worse than this one!
Claire Kandle, Local History & Genealogy Librarian
---