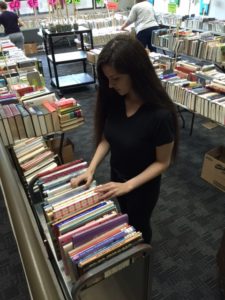 Throw the confetti! Strike up the band! Our Volunteer of the Month for September is Taylor!
How long have you been volunteering at the library?
Almost a year
Why did you want to become a volunteer at the library?
I wanted to become a volunteer at the library to learn how the library works and to see what it takes to be an employee at the library.
 Who are some of your favorite authors?
James Patterson
John Green
Gail Carriger
Richelle Mead
C.C. Hunter
Cassandra Clare
What do you enjoy most about being a volunteer?
Learning how the library works
Thanks for everything that you do, Taylor! We appreciate all your hard work and dedication to helping the library.
Would you like to volunteer? Contact Wendy Contini for more information on how to help your library.
---